The Call Center can handle inbound calls. The inbound calls will flow through the Call Center like call outs do.
The inbound calls do not affect the call frequency in the calling queue. Call In dispositions can set call backs, select DNC phone numbers and influence the calling queue based on the disposition and the automation rules.
In order to setup the Inbound Calls, a user with admin, editable drop down, and call center permissions will be required.
Inbound Call In Setup
The Call In disposition setup can be found by going to Admin → Editable Drop Down Lists under Company Setup → Blue icon to the right of the Activity Result drop down. Setting up the inbound calls is very similar to how the Call Outs are set up. Select the Call In checkbox to make available in the disposition drop down when using the Call In feature. If No Call In Activity Result is selected, all Activity Results will be available to select for a disposition. Call Types (Call Back and DNC) can also be assigned to Call Ins.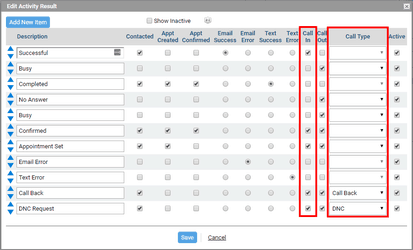 The Call In selection above represents most of the setup for handling Call Ins. The Call Center System Setup under the Call Center Setup square handles the default Call In calling queue.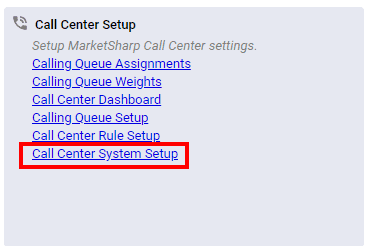 The Default Call In calling queue drop down is only used for contacts that do not have a current Marketing Queue assigned to them. In most cases, the contact will always have a Marketing Queue.


Inbound Call In Agent Experience
To use the Call In feature, a record needs to be pulled up. When there is no record pulled up, the Call In button will remain hidden.

Selecting the Call In button will pull up a Start Call dialogue box. This box is meant communicate the agent's intentions of logging a Call In activity for a particular contact. It also provides an option in case the agent accidentally selected the wrong button.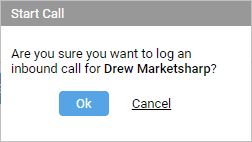 Selecting Ok will start the call like the Call Outs.

Like the outbound calls, the Disposition Call drop down has Call In options which are set up in the admin section. The agent can then select an option based on the result of the call.

If the agent chooses a Call In option with the Call Type of Call Back or DNC, like the outbound calls, the agent can select a Call Back time or a DNC phone number(s). The Call Back option was chosen in this example.

An activity screen will pop up with the Activity Type of Call In selected for the agent.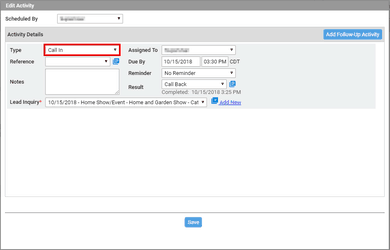 Clicking Save will log the call under the activities tab as a Call In. The Next Call Date will populate with when the Call Back was scheduled and the user can hover over where the notes would be to gather more Call Center system information. Current Call Ins, Completed Call Ins and any Call Backs set using the Call In feature will be visible on the Call Center Dashboard. (Admin permission required)

Current Call Ins, Completed Call Ins and any Call Backs set using the Call In feature will be visible on the Call Center Dashboard. (Admin permission required)