MarketSharp has incorporated MapQuest into the appointment scheduling process to make scheduling appointments more efficient, and salesperson's time more productive. The scheduler provides travel distance (in miles) and drive time (drive time is the actual time in minutes) from one appointment to the next so call center staff can schedule the most efficient time.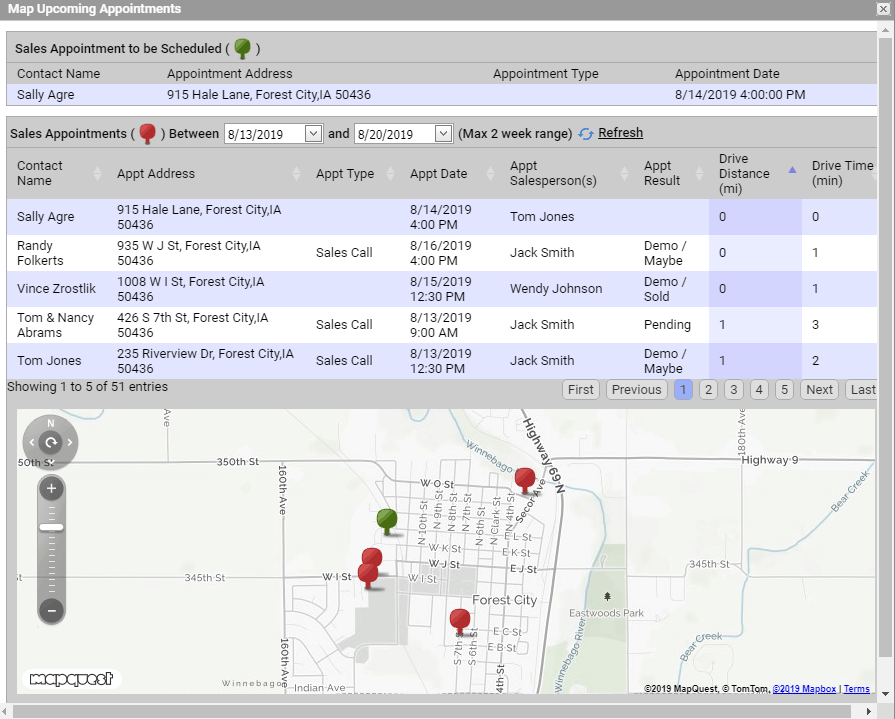 Using Sales Appointment Routing:
To use the Sales Appointment Routing feature, you must be scheduling a specific sales appointment from a contact record in MarketSharp. Go to the Leads Record View and click on the Inquiries & Appointments Tab There are three ways to get to the Sales Appointment Routing feature Click Edit on the appointment


Click the slot scheduler icon to view the appointment in the slot scheduler

Once you've chosen one of the above three options, click the Map to Schedule Appointment link to open the Sales Appointment Routing

Once in the modal (the box that pops up), view the following items:
The currently scheduled appointments for no more than a two week time frame of your choosing
The name, address, appointment type, appointment date, appointment result, drive distance (in miles), and drive time (in minutes) for each appointment in the time range you are searching for
A map of the upcoming appointments marked with red (scheduled) or green (to be scheduled) balloons
To schedule the appointment, close the Sales Appointment Routing modal (the pop up box) and continue scheduling the appointment as usual.