Angi
Angi is the leading online marketplace connecting homeowners with prescreened and customer-rated remodeling and home service professionals. With the expertise of Angi and their ProFinder technology, you can be matched with highly targeted prospective homeowners while taking into account your availability, service/product type and location preference. And now with innovative integration, you can instantly capture hot prospective homeowners provided by Angi for immediate use within MarketSharp. (Just think… no more manual data entry!) Once within MarketSharp, you can put in place automated marketing processes for accurate, efficient follow-up to convert more leads to sales. Angi can improve your online visibility so you can reach more customers! Become an Angi member and get: Placement in our LiveDirectoryTM and access to our Exclusive Partner Network with up to 15 million* visits each month, putting your business on Better Homes & Gardens, This Old House, 1-800 Contractor, and more Targeted Leads focused on the types of jobs you want, in the locations you request Get targeted leads throughout the year with a predictable budget that you control. To get things set up in MarketSharp after you sign up for an Angi account or have an existing account is a simple process.
You will need to have system admin permissions to get things set up.
Start by clicking your admin link at the top right corner of MarketSharp.
Scroll down the page until you see the Lead Capture Setup area and click on Angi.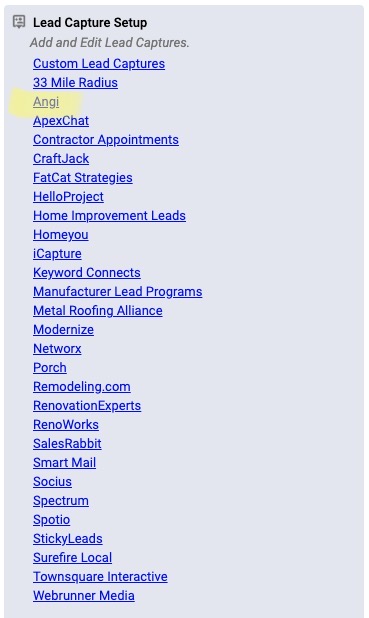 4. You will need to select how you want the lead sources to be listed on the inquiry that will be attached to the lead when it is pushed into your database.(most common use would be to set the lead source primary to "Angi" but some companies will list the primary lead source as "Internet" with the secondary lead source set to "Angi")

5. MarketSharp allows you to attach an activity process to follow up with your Angi leads when they get entered into your database. (For information on how to set up activity processes click here) Once you have an activity process built for your Angi leads select it in the "attach the following Activity Process to lead" drop down menu.

6. Angi will send you an email when they have new leads for you and MarketSharp will also allow you to get an email notification that the leads have made it into your database. Select the names of the users you wish to get the email notification the leads have been entered into MarketSharp.

7. Click save at the bottom of the screen to apply the selections made.
NOTE: Once you click save, you must re-enter the Angi Maintenance screen and retrieve the SOURCE ID at the bottom. You will need to contact Angi to provide them with this SOURCE ID as well as a COY ID. The COY ID will be your Company ID number with Marketsharp.