MarketSharp and
Modernize
have developed a Lead Capture Integration, which allows Modernize to submit leads directly into your MarketSharp database. There are several benefits of this integration.
No manual data entry is required. Leads are automatically submitted into MarketSharp.
Lead sources are automatically and accurately entered. Lead Captures can be configured with the appropriate Lead Source Primary (i.e. Internet) and Lead Source Secondary (i.e. Modernize) for accurate lead source reporting.
Automated follow up marketing. Lead Captures can also be configured to automatically attach a follow up Activity process (i.e. immediately send an email, queue up a phone call to set an appointment).
Lead Captures can also be configured to notify your office staff (via email or text) so they can follow up immediately.
According to THE INSIDESALES.COM / M.I.T LEAD RESPONSE MANAGEMENT STUDY…
"The odds of contacting a lead if called in 5 minutes versus 30 minutes drops 100 times. The odds of
qualifying a lead if called in 5 minutes versus 30 minutes drop 21 times."
Converting more
web inquiries
into
set appointments
will ultimately convert more leads to sales, which dramatically reduces your marketing cost as a percentage of sales.
Following up within the first 5
minutes is the key to increasing this conversion ratio.
How to configure MarketSharp Lead Capture for integration with Modernize
Click the
Admin
link from the drop-down in the upper right corner of MarketSharp.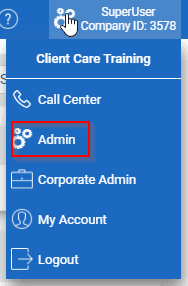 Look for the
Lead Capture Setup
box, and click the
Modernize
link.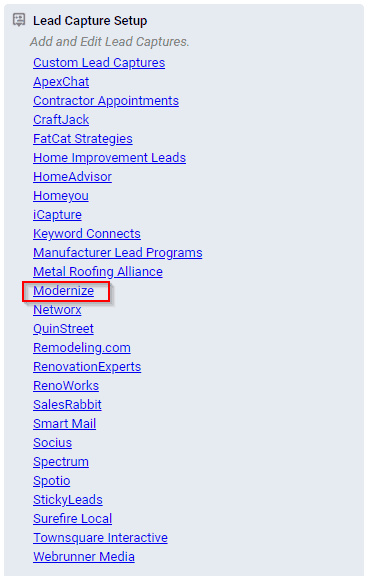 Choose the lead sources, marketing queue, and attach any applicable activity process. Also select who (if anyone) should receive email notifications when a new
Modernize
lead is entered into MarketSharp.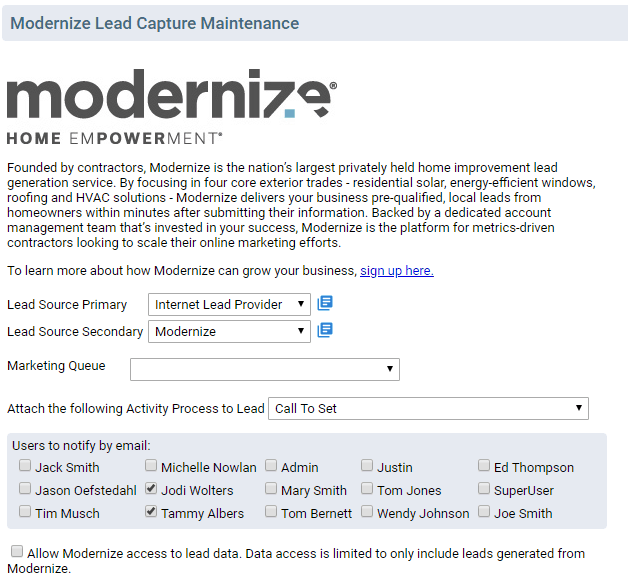 Click
Save.
This will redirect back to the
Admin
screen. Click on the
Modernize
link again, and there should be a Source ID that populated.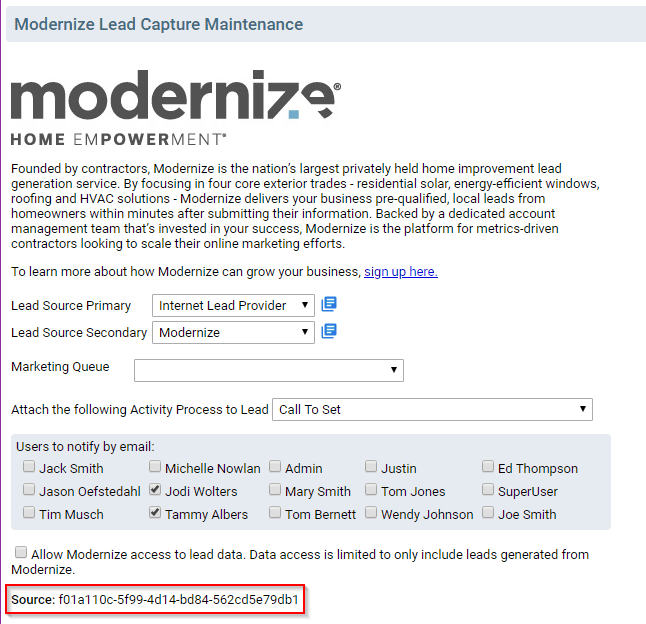 This Source ID and your MarketSharp Company ID (sometimes referred to as a COY number) need to be provided to
Modernize
to complete the integration.