Surefire Local is your digital marketing control center, specializing in lead generation for home improvement businesses. Their package allows you to stay focused on your business while they get you more customers. Home remodeling companies using Surefire Local marketing packages get an average ROI of 20-30 leads per month at an average of $40-$90 per lead depending on market specialty. To get started, click here https://www.surefirelocal.com/local-marketing/ms/ or call at 866-465-9080 and mention the partner code "MarketSharp" to get the special MarketSharp partner only offer.
How to Configure MarketSharp Lead Capture for Integration with Surefire Local
Click the Admin link from the drop-down in the upper right corner of MarketSharp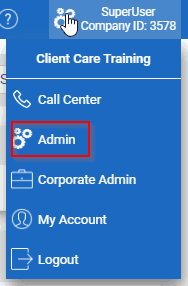 Find the Lead Capture Setup box and click the Surefire Local link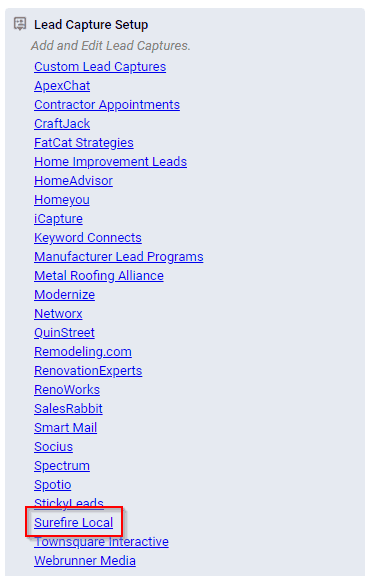 Click the Add Lead Capture button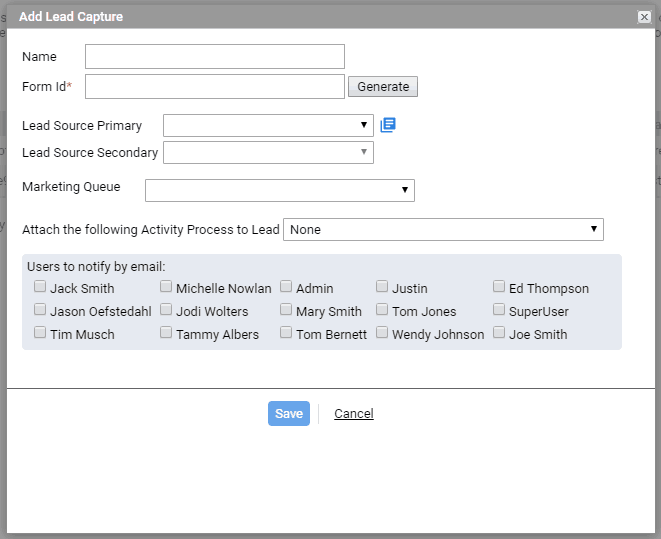 Give the form a name. Click the Generate button to generate a Form ID. This will need to be provided to Surefire Local. Chooses the primary and secondary lead sources, as well as the marketing queue. Choose an Activity Process to attach to the lead capture if you'd like. Lastly, choose which users (if any) to get email notifications when a new Surefire Local lead is entered into MarketSharp. NOTE: Surefire Local may provide a Form ID, if that is the case, simply enter it in instead of clicking the generate button.
To locate the Source code:
Complete the setup surefire local lead capture. Once that is complete, get form ID by clicking test form, right click in the form and select "view page source" and scroll to the middle and Ctrl+F to find "<input type="hidden" name="MSM_source" value= ". That will bring you to the source line. Copy and give the source code to Surfire Local.