Did you know
95% of text messages are read within five minutes
of receiving them? With MarketSharp Texting

you can send manual or automated one-off reminders and notices to alert your leads, customers and employees of upcoming activities. With integrated technology, you can easily create text campaigns using built-for-you template messages or create your own custom personalized texts (be careful, texting has rules so it cannot be used as a marketing tool - see
SMS Agreement Notice
in MarketSharp Messaging Setup). However, for reminders, alerts or special notices, it's an extremely affordable and effective way to reach your contacts for immediate exposure and response! The texting feature works very similar to MarketSharp Auto Email. You can send one-off personal texts to your clients or you can queue up automated texts to be sent from within an automated process. All texts will display in the Activities panel (as pending or completed). You can also automatically send reminders to staff (i.e. remind salespeople of an upcoming appointment). If recipient replies to a text, you'll get an email notification with the text response.
To set-up MarketSharp Texting:
Start by clicking on Admin link from the drop-down in the upper right-hand corner of MarketSharp.
Choose MarketSharp Text Message Setup
Enter an Account Name (i.e. Your Company Name) then click on Create
Read the MarketSharp SMS (texting) Policy and click Accept if you agree.
Click on the blue Plus Sign (+) to add a texting phone number
From the drop-down choose either your Area Code or Zip Code, then enter the corresponding Area Code Number or Zip Code Number and click on Find Numbers
Once you find the texting number, click on the Add link and the text number is now available for use.
Under your text messaging account, you can view:
The status of your Total Text Message Segments
View the Incoming and Outgoing counts,
Add (or delete) additional text numbers (Note: should you decide to ever delete the designated texting number it is NOT recoverable.)
Choose the appropriate staff members to receive incoming text messages via email
NOTE:
If you go over your text segment quota for the month, you will not receive responses via email until the next period.
View or Create Text Templates:
Start by clicking on the Admin link from the drop-down in the upper right-hand corner of MarketSharp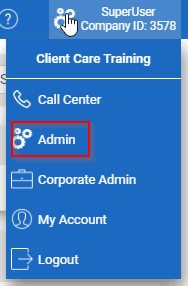 Choose MarketSharp Text Message Templates. You'll notice sections for Custom Templates and Standard Templates

To create a new Custom Template:

Enter the text message Name
Chose the type of Contact from the drop-down of company Contact or Employee (the employee must have a valid mobile phone number in Employee Maintenance),
Enter your text Message (you can insert important merge fields in to the message)
Click on Save. Or you can select to use a pre-defined, (non-editable) Standard Template. (HINT: You can copy and paste a standard template to modify into a Custom Template if you wish.)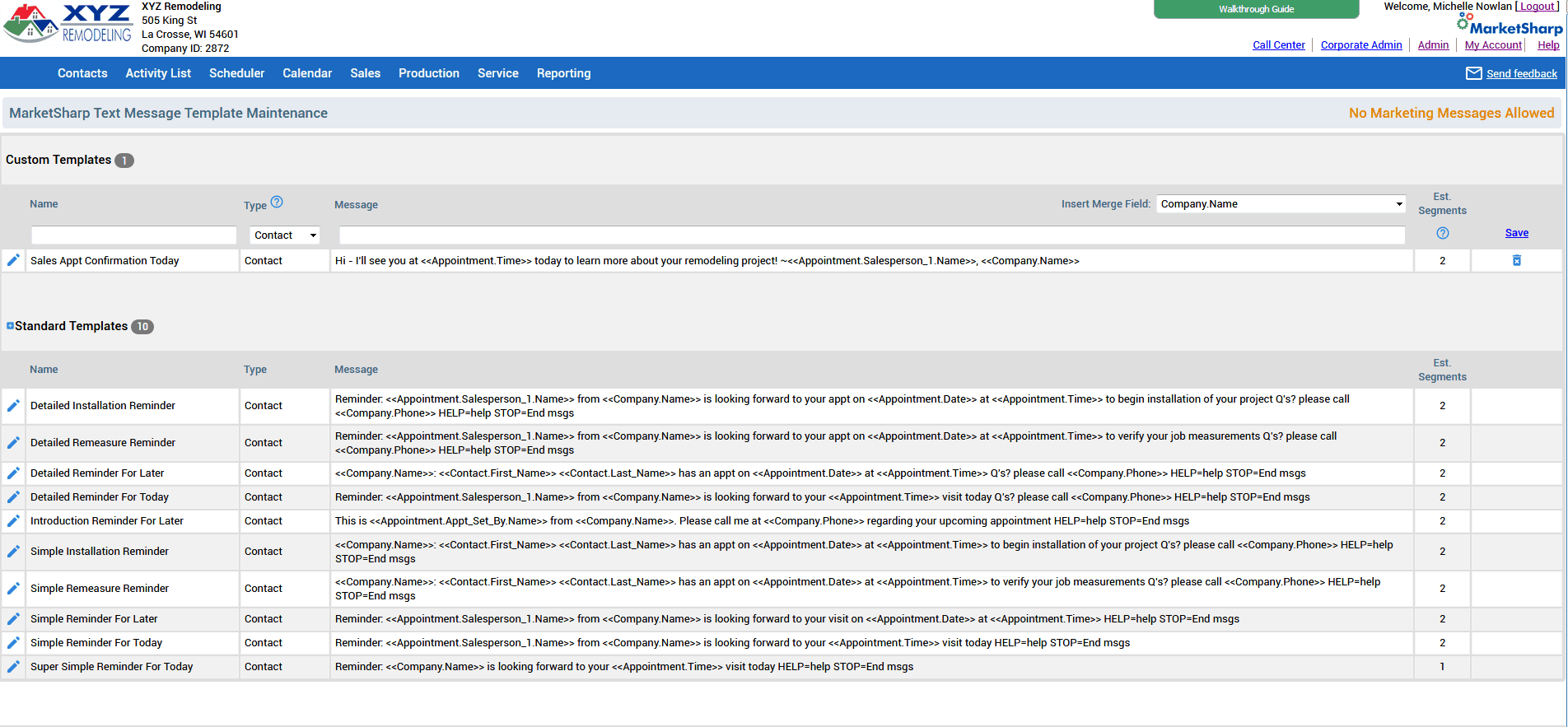 To Create an Activity Process for Texting:
Start by clicking on Admin link from the drop-down in the upper right-hand corner of MarketSharp
Click on Activity Process link under the category Process Set-up
You can either Add a new process (click on Add Process Button), Duplicate an Existing Process (click on Pages icon) or Edit an Existing Process (click on Pencil icon). For demonstration, let's Duplicate a process and then add texting to it.
To duplicate, click on the Pages Icon next to the process, you'd like to duplicate (i.e. Pre- Appointment Marketing Process)
Name your new process: For demo purposes it's labeled "Pre-Appt Process – 5 Steps" (it includes 2 emails, 2 texts and 1 Mailer.)
Click on Add A Process Step button
Complete the field information to add a text to the step. Fill in Type (i.e. Text Out), Reference (i.e. Appointment Reminder), Assign To, Due Date/Time (when its scheduled to take place), Reminders and the Template (choose corresponding text template)
Add another process or Click on Save
Now, the recipient will get an automated text reminder about the upcoming appointment one day before the appointment date.
To Add an Automation Rule for an Appointment:
Here's where you can assign the activity process to the appropriate Appointment Result so it triggers the activity to take place automatically
.

Since the sample above was for a pre-appointment process, you need to update the Appointment Result of Pending with the Activity Process of: Pre-Appt Process – 5 Steps from the dropdown
Click on Save
When you add an appointment and result it as Pending… the Pre-Appt Process – 5 Steps will automatically trigger.
To schedule a Text:
From leads or customers, find the Contact receiving the text
Click on the Activities Tab
Choose Add Activity
Choose Text Out from the Type drop-down field
Click on the check box labeled Auto Send Text.
Once checked, complete info for DATE, TIME and TEXT TEMPLATE. The TO field will auto-populate with a texting number.
Choose Save