Weekly Lead Report
In this tutorial, I will show you how to setup a recurring report that will show you how many leads you having coming in from your lead sources and then how many of those inquiries have appointments set for them. I will also show how to have this report auto-generate on a weekly basis.
Step One: Go to the Reporting Tab
Locate the marketing report Detailed Marketing Report. This type of report is a custom one, so you have a lot more options to choose than from our standard reports.
We will start with Filter Setup.
Choose Total Number and Inquiry Date Range.
Right below Filter Setup is Group Setup.
Choose Lead Source Primary for Group 1 & Lead Source Secondary for Group 2.
The Additional Filter Setup & Appointment Setup columns are fine as they are so we don't need to touch them.
Next, for Show Report Columns & Show Detail Fields. Hit Uncheck All on both.
In the Show Report Columns, you only need to select Inquiries & Appt Set.
This will tell the report to tally all inquiries from a lead source and out of that total how many had booked appointments.
Once you have that, go ahead and click Save As New and name this report something handy so you can come to it and make changes if needed.
______________________________________________________________________________________
Step Two: Set the Report to recur weekly
To the left of that Save as New button, click the Schedule Report Button (not that one that says immediately).
It WILL require you to enter a date to continue. If you do not, it will display an error message like this:
Add a weekly date beginning on Monday and ending on Friday, which ever two days you want the start and end to be.
Once you click the Schedule Report Button, you will see another box pop up and this is where we will set it up to run weekly.
If you choose Immediately and then Choose weekly from the options if will generate the report today and then you will see in the schedule view that the report will be scheduled to run again a week out.
However, you can choose "In the Future" and set the date and time of when the report will run and then choose the drop down for weekly and that will report will run each week on that day of the week at that time.
Then the last options are if you want to be emailed once the report is ran and if you'd like to add someone's email to it. That's about it.
Once the report runs it will look something like this.
STEP THREE: Want to see how many sales came from these leads?
This is an added step, but by no means is it mandatory. If you want to see how many sales came from these leads, all you have to do is go back into the report.
Under Report Columns Choose Total Sold.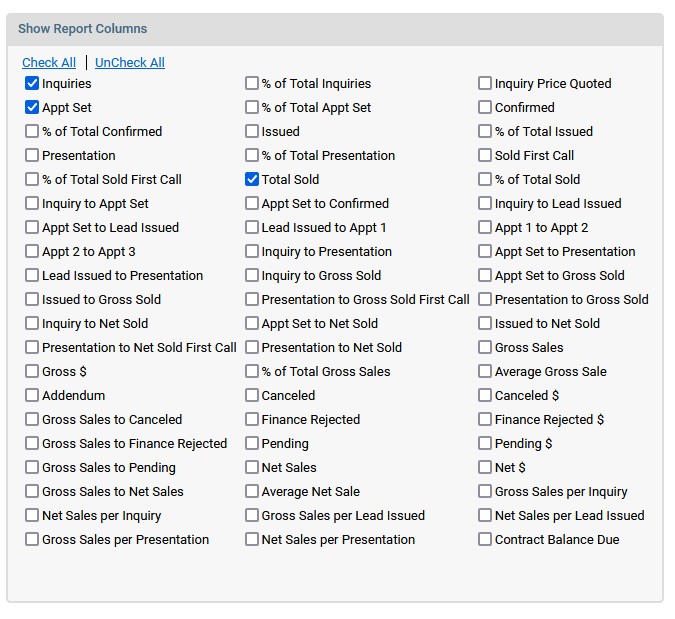 Save the Report.
This is what it will look like once ran: