We are glad you're reading this; because that means that you are now the proud owner of your very own MarketSharp M CRM (Customer Relations Management) Database. Welcome aboard! Before you start using the system in earnest to track your leads, send out mailers, or even run reports, there are few setup items that you should work on first. This list is designed to help you through the initial setup process. Let's get started!
Buy MarketSharp Because you're reading this list, you can pat yourself on the back for a job well done in purchasing MarketSharp Software, and we can skip to number two.
2. Have a MarketSharp Data Conversion
This is a choice that each company will make individually. Do you have existing data and if so, do you want it converted, or placed into MarketSharp. Typically this is a decision that you will make before you get going with MarketSharp because the data that we may put into the system will need to be done before we send out the log in credentials to you. You'll work closely with your Account Executive and our Data Conversion Specialist Shane to get your data into MarketSharp. If you choose to have an empty database that's okay too! You can still continue on to the step three.
3. Receive Your Credentials and Log In For the First Time
The Account Executive that you've been working with at MarketSharp will send you an email when your login credentials are ready. The subject of that email will be "Smile, Your Log-In Credentials for MarketSharp Are Ready!" This email will contain a company ID, a username, and a password. The company ID will always stay the same where the username and password will change based on who is logging in. You'll probably want to copy and paste that password – it's generated by a computer and can be not so fun to type in. Once you're in, take a look around your database. Click on a few things and get familiar with the program. You don't have to do much, just poke around to see what's there. Don't worry, it's okay if none of it makes sense. Step five will talk about training.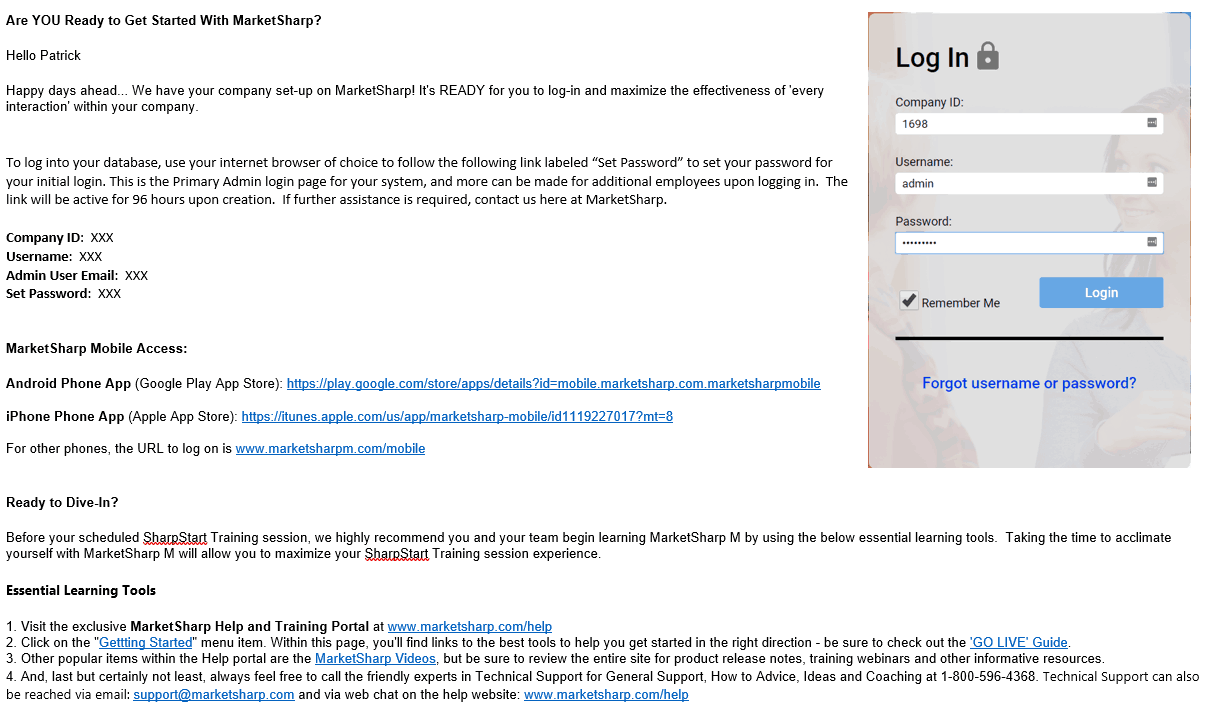 4. Set Up And Complete Your New User Training
That means that when you are ready (usually soon after you get your log on credentials) Jennifer in our office will call you to set up your MarketSharp New User Training with one of the members of our Client Success Team. The Client Success Agent will cover some MarketSharp basics that we know from experience are necessary for each company to know in order to be successful. Each user and each company is different so if there is something specific you'd like to cover or focus on, bring it up on the call. This is a live training and you will have the undivided attention of the Agent on the phone to address your needs and concerns. Keep in mind, this is not a one and done phone call. If you'd like more help, the Client Success Agents are available for you Monday through Friday from 7:30 am to 5:30 pm Central Time by calling 1-800-596-4368. You can also email them at support@marketsharp.com or even go to www.marketsharp.com/help to chat with them. And don't forget, it's all free with your subscription to MarketSharp M. Looking for a recorded version of the data entry training? Something you can watch at your leisure? Something you can pause and refer back to? We've got you covered: http://www.screencast.com/t/6eXLXlRMBc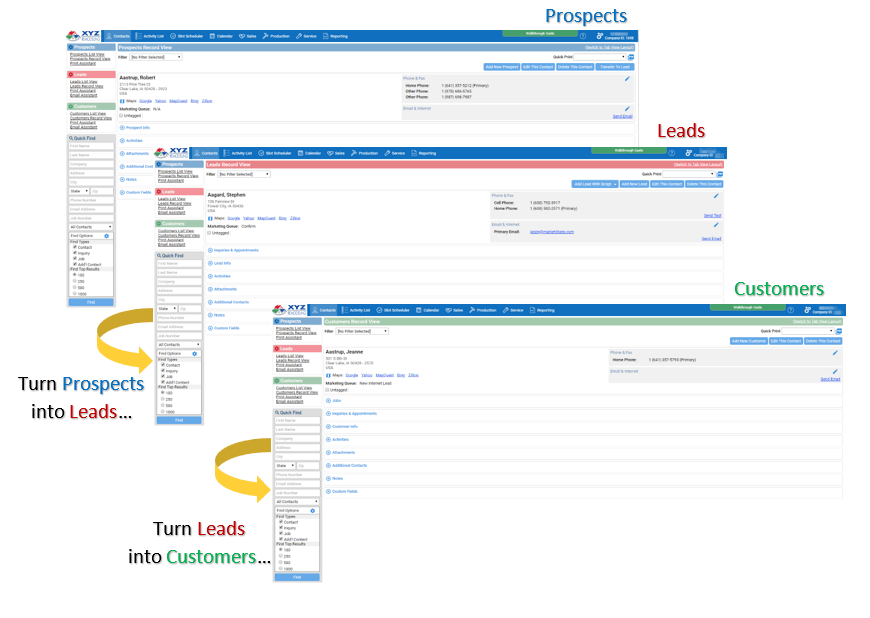 5. Configure The General Setup
Now that you've had your initial training, you'll want to start off the customizations by configuring the General Setup. The General Set up (located in the Admin area of MarketSharp M) is where you will configure your company profile information, insert your company logo, and enter other company specific details like postal criteria. Check out all the options here: https://www.youtube.com/watch?v=NHBkVRP6zjY
6. Configure The Editable Dropdown Lists
One of the more important steps to setting up MarketSharp is to configure the dropdowns to contain the products you sell, the verbiage you use when resulting appointments, etc. The Editable Dropdown Lists (located in the Admin area of MarketSharp M) allow you to configure each of the custom lists to reflect your company's unique characteristics and internal practices. For your convenience the lists have been configured with default information. There are five types of custom lists: Standard, Appointment Result, Lead Source, Product Description, Product Attribute and Job Cost Type. To configure click on the "edit list icon" and update your information. Here is some more on editing lists: https://www.youtube.com/watch?v=NJfSYx4tzyU
7. Manage Your Employees
The next step will be to add, activate (if you've done a conversion), and generally manage your employees. Each person that logs into MarketSharp will need their own unique username, their own password (the password needs to be six or more characters, one of which needs to be a number). The company ID will remain the same for all of your employees. You can have as many employees in the system as you'd like. The number of employees that can be logged in at one time will match the number of user licenses that were purchased. So if you have five user licenses, five of your employees can be logged into the program at one time. It is recommended that anyone that you will be tracking in MarketSharp – such as production staff or salespeople – whether or not they will be logging into the system should have an employee. That way you can select their name from the dropdowns within the system and see the necessary data on your reports. Here is some additional help on adding and creating employees: https://www.youtube.com/watch?v=OlS_3DoB6j8
8. Configure Your MarketSharp Email
When you put the power of MarketSharp Email to work by attaching one or more pre-determined follow-up marketing campaigns… your unsold leads and past clients will never forget about you. With any nurture marketing campaign, the goal is to stick with your unsold leads and past clients and maximize your opportunity at converting more leads and generating repeat sales. Plus, you can also use it to send one off emails using a template or by writing an email from scratch. With MarketSharp Email, you'll get 35+ email campaigns built-in including follow-up campaigns, promotional offers, social media invites, online review requests, seasonal newsletters and many more. The package includes the ability to send up to 40,000 emails per month. And the best part… it has everything built-in behind the scenes to manage unsubscribes and improve deliverability. NOTE: You'll only need to setup MarketSharp Email if you've purchased this functionality. Check out all the options here: https://www.youtube.com/watch?v=KJTNaMxGNF0
9. Enter Data
Now you're ready to starting putting your data into the system. Entering the information you have accurately into MarketSharp is a critical function in order for the rest of the system to function as intended. Meaning if you don't put information in, or put information into the system incorrectly, the other areas of the system such as mailings, reporting, emailing, etc. won't function like they are supposed to. Garbage in, garbage out. Below is a short video on the contact data entry process to help you get started. Have questions? No problem! Contact the Client Success Team at 1-800-596-4368. Contact Data Entry: https://www.youtube.com/watch?v=3ETK-aXWRbE
10. Contact us!
The Client Success Team is here to help you along your MarketSharp journey. The goal is your success. PHONE: 1-800-596-4368 EMAIL: support@marketsharp.com