Many of our users aren't aware that there are two different views in the Record View section of MarketSharp. This tutorial will touch briefly on what they are and how they look.
MarketSharp has many sections and settings that take time to master. From Activity Processes to Zapier we try to provide as much information as possible to help enhance your knowledge of our software. This is a major factor for us as we continue to produce tutorials on processes that we feel needs to have some light shed on it.
Today I want to show you the two view layouts that MS offers. Those being the Panel View and the Tab View.
To get started, click on the contacts tab.
Next we need to access a contact's record. Depending on your permissions, you may be limited to the amount of contacts you have access to. If this is the case, please locate a contact you do have access to and wait for my instructions below. If you are able to search through various contacts, please continue.
Located on the left side of the webpage, we have the Quick Find.

This is a very handy tool to locate a particular contact in a sea of contacts. For this example, I will search for a contact with the last name Smith. Since Smith a one of the most common surnames in the US, it should almost always yield a result.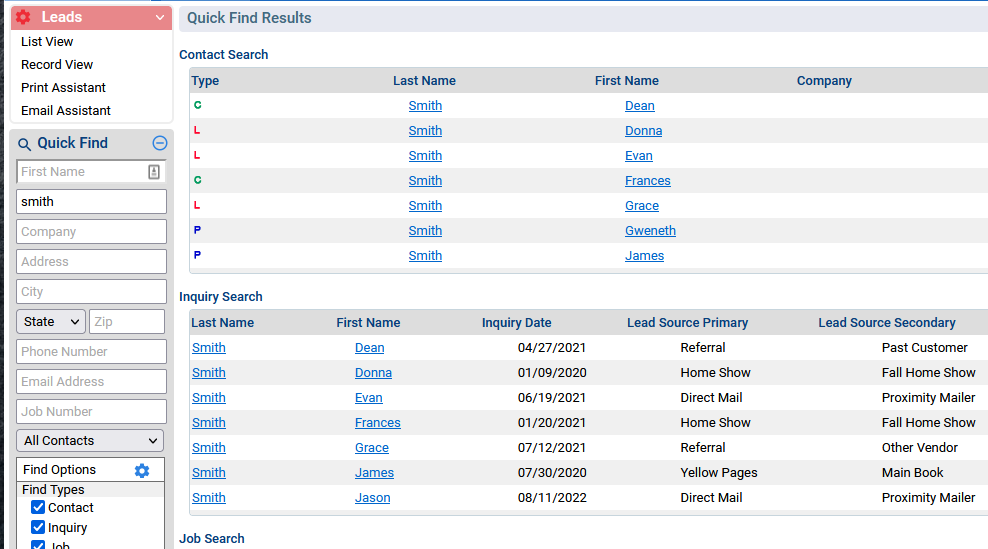 I will click on any of the names to access their Record View.
You will know you're in right area when it loads the contact's information and the indicator on the contact menu will be grayed.

Now, depending the on view layout, the information below the contact's Name Plate will look one of two ways.
Panel View: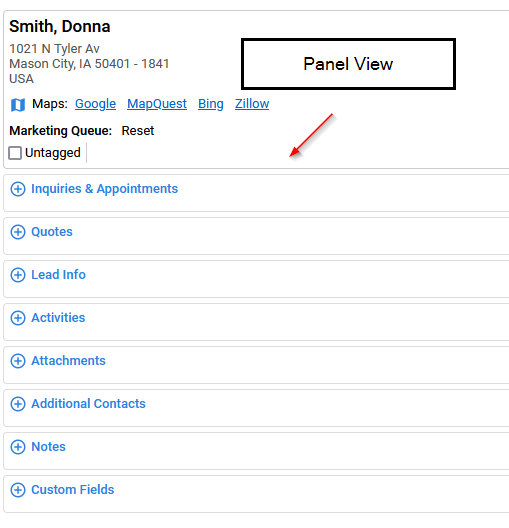 Panel View is an option that sorts the information into expandable sections. You click the + button to expand and the - button to collapse the panels.
Tab View:

Tab View is an option to aligns all the various sections along a blue bar, we call this the lower blue bar (the bar across the top of the webpage is the Upper Blue Bar) and in my opinion is the better layout of the two because I can see all the options at one time.
The reason I prefer this is because it's hard to navigate quickly through the panels if they are either all expanded or even if you have 2-3 panels expanded, but that is my preference. I suggest you try them both out and see which one you like best.
Now I will show you how to change your layout.
On the contact's record, look over in the right corner near the top, just below your login name and Company ID. There will be a button that is labeled Switch to.. and it will mention the view you are currently not using.