MarketSharp M Sharp START – One Hour 'Go Live' Guide
Are You Ready for a Quick and Easy Setup of MarketSharp M? First, congratulations on your recent investment in MarketSharp M. And second, in an effort to get you up and running as quickly as possible, let's modify MarketSharp M to suit your company's specific attributes and user preferences. The Sharp START guide will take you through the initial Administrative setup for Company Information, Employee/User Preferences and Activity Processes. The goal is to get you to 'Go Live' in less than an hour!
I. Logging into MarketSharp M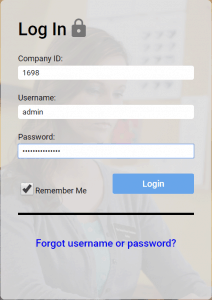 Simply visit
www.marketsharpm.com
and enter your System Administrator (SA) information. Upon licensing, your company received System Administrative Log-in information including: Company ID, Admin User Name and Admin Password. Note: The system administrator is an essential role for initialing setting up and maintaining your system. It is highly recommended the SA is knowledgeable and trustworthy as he or she will control important functions and setup critical processes within the application. Depending upon the size of your company, it may be beneficial to assign the SA role to one or two individuals. (If for any reason, you do not have Admin information, please contact MarketSharp Customer Care at 1-800-596-4368 or
customercare@marketsharp.com
)
II. Initial Setup… as easy as 1, 2, 3!
Now that you've assigned a System Administrator (SA) – There are three initial setup areas for the SA to fine-tune: Company Setup, Employee Setup & Process Setup. Each of these areas will enhance MarketSharp M's capabilities within your business.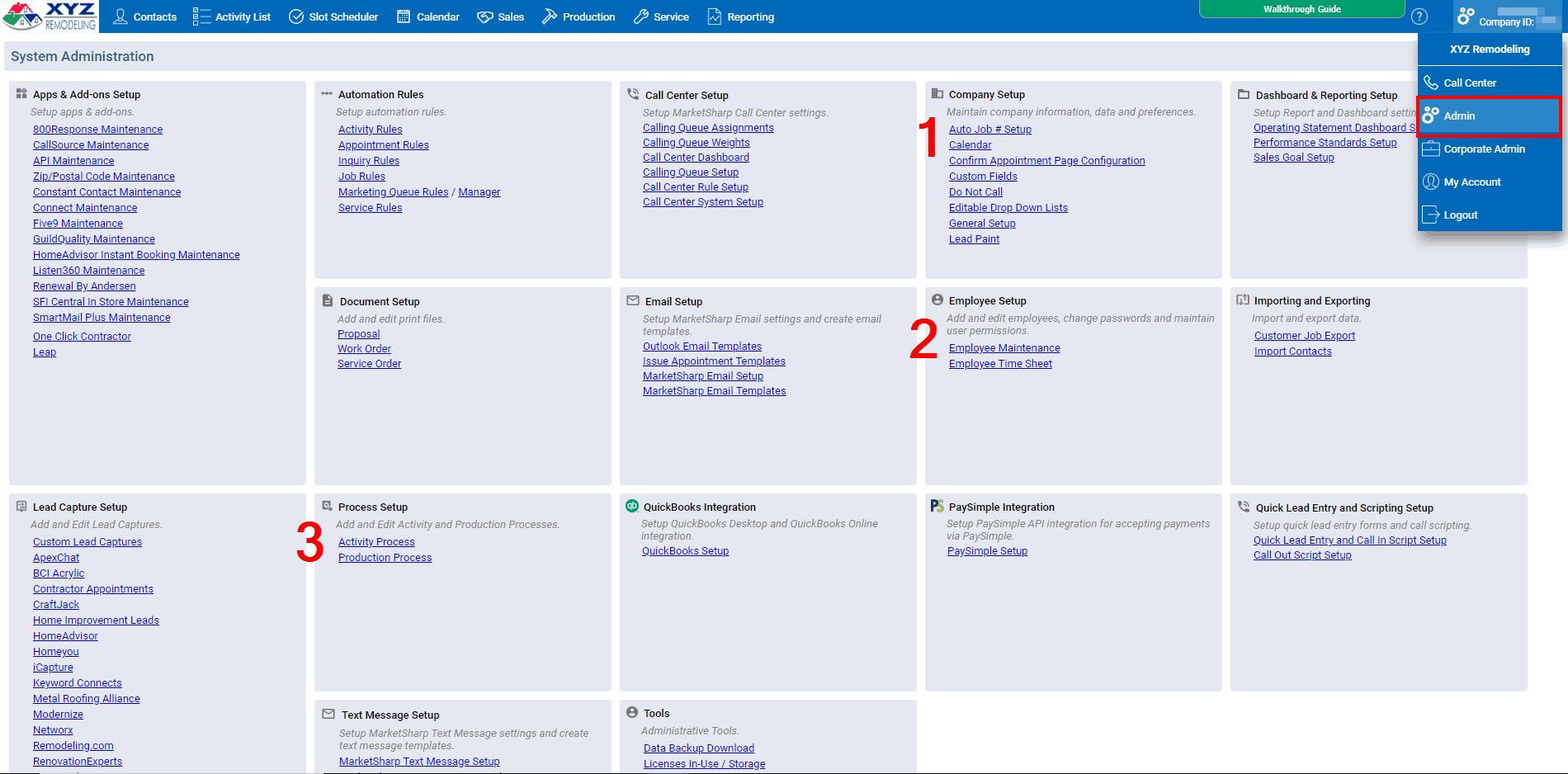 To begin, navigate to and click on the Admin link in the upper right corner of the program's screen. Now let's take a few moments to configure the following important elements:
Company Setup
Within company setup you will find links to maintain company information, data and preferences. Below you will find the elements that should be configured before initial use.
General Setup: Configure company profile information, insert your company logo, and enter other company specific details like postal criteria.
Editable Drop Down Lists – Configure each of the custom lists to reflect your company's unique characteristics and internal practices. For your convenience the lists have been configured with default information. There are five types of custom lists: Standard, Appointment Result, Lead Source, Product Description, Product Attribute and Job Cost Type. To configure click on the "edit list icon" and update your information.
Calendar – Configure the calendar to reflect your company's Office Hours, Appointment Length, connect with iCal and Specific Resource information.
Note
: iCal or iCalendar is a computer file format which allows internet users to send meeting requests and tasks to other internet users, via email, or sharing files.
Auto Job Number Setup – You can configure the application to auto-populate the job number field based on your custom criteria using year, first name, last name and chronological sequence number.
Do Not Call (DNC) – If your company subscribes to the DNC registry, you can activate the DNC functionality. MarketSharpM has the ability to process and flag phone numbers that are listed on the federal, change, and state do not call registry so they are properly excluded from your marketing and follow-up efforts. To subscribe to the DNC go to: www.telemarketing.donotcall.gov
Custom Fields – Creating custom fields allows you to adapt MarketSharp M according to your specific business needs. Before configuring custom fields, you may want to determine if there is 'other company specific' data you'd like to track and report on that isn't already available within the application. The application offers six types of custom fields: check box, currency, date, drop down list, number, list box and text. To add a custom field, click on the "Add New Custom Field" button, enter the new field name and then choose the type of field.
Employee Setup
Within the employee setup you can add and edit employees, change passwords and maintain user permissions levels.
Employee Maintenance – To add a new employee simply click on the button "Add New Employee". The User Name and Password will enable the employee to log in to MarketSharp M. Once an employee has been added, you can limit employee access by feature, list, and/or contact by applying permissions levels. To configure permissions, click on the "key icon" then click on the check boxes to authorize access or permission to each item. Don't forget to SAVE your permissions before closing. To edit an existing employee, click on the corresponding "pencil icon" and make the changes.

Note: Passwords are case sensitive, must be six or more characters long, and at least one character must be a number.
Important: If your data has been migrated from a past version of MarketSharp or another program, be sure to click on the "Show Inactive Employee" check box in the upper right. All employee data, when converted, is set to 'inactive' requiring the SA to activate and update all log-in and permission credentials.
Process Setup
Process setup allows you to configure and design two types of processes Activity and Production work flows to streamline your business practices. To add a new activity or production process, click the 'Add Process' button. Enter the Process Name and Process Type. Enter the Steps/Tasks/Milestones required to the process. To edit a process click on the corresponding "pencil icon" or to duplicate a process click on the corresponding "dual paper icon". You may create up to 25 tasks per process.
Activity Process – Create and assign a particular role-based activity process for administrative purposes, marketing follow-up, sales routines, etc. in the form of phone calls, emails, mailers, surveys, and more for any prospect, lead or customer. For Example: To ensure you build an ongoing relationship with your new customer, you might create a Customer Care Activity. Step 1: Send Thank You card, Step 2: Email tentative installation date, Step 3: Prepare completion packet, Step 4: After-install courtesy call, Step 5: Send follow-up survey, Step 6: Send Referral Program Info, Step 7: One-year courtesy call.
Production Process – Create and manage production processes within the customer job tab for each product or service. For example: You may create a production process to assign each task or step to Complete a Window Installation. Step1: Obtain window measurements, Step 2: Order windows, Step 3: Receive/inventory product shipment, Step 4: Schedule installation appointment, Step 5: Perform installation.