Exporting Appointments to Salespeople
Emailing appointments to Salespeople is a great way to ensure they are aware of new and upcoming sales appointments. There are two ways to send the appointments out:
Calendar
Sales Tab
Exporting Appointments in the Calendar:
In the
Edit Appointment screen
for the
Sales Calendar,
there is an option to click on
Save and Email this Event
under the
Event Details
side of the screen. This will send an email to the Resource/Salesperson in the form of an
iCal
file (a computer file format which allows users to send meeting requests and tasks to other users via email). The salesperson can then use this
iCal
file to add the appointment to a personal calendar outside of the MarketSharp Calendar.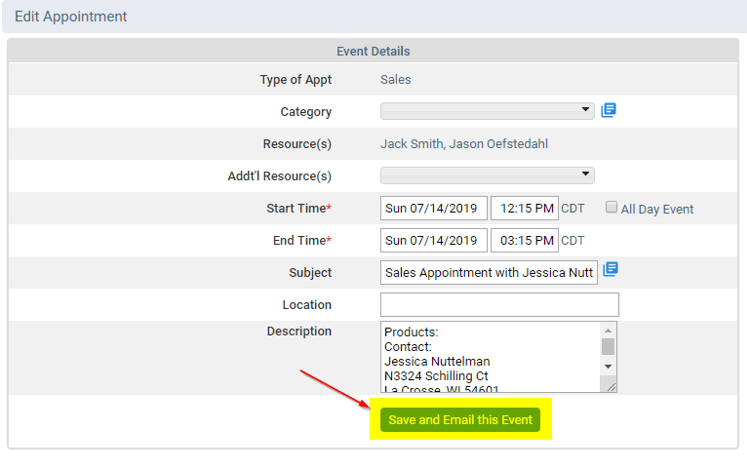 Tagging and Emailing Appointments from the Sales Tab:

Place a check mark in the boxes for the corresponding appointment; this will tag the contacts. After tagging,
Email & Issue the Tagged Appointments
by clicking the link.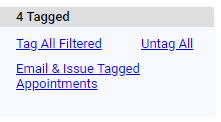 After clicking on the
Email & Issue the Tagged Appointments
link, this screen will pop-up: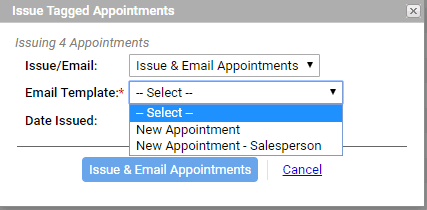 Choose which
Email Template
to use from the drop down. Then click on the
Issue & Email Appointments
button to send the emails to the salespeople. This option for emailing does not contain an
iCal
file. Instead it sends a detailed email with as much or as little information chosen about the appointment and contact. Edit and create the options for these emails in the
Admin
section under
Email Setup / Issue Appointment Templates.
Both the
Calendar
and
Sales Tab
options create
Confirmation
Activities
showing the date and time the appointment was emailed to the Salesperson.